2017 KTM 250 SX
2017250SX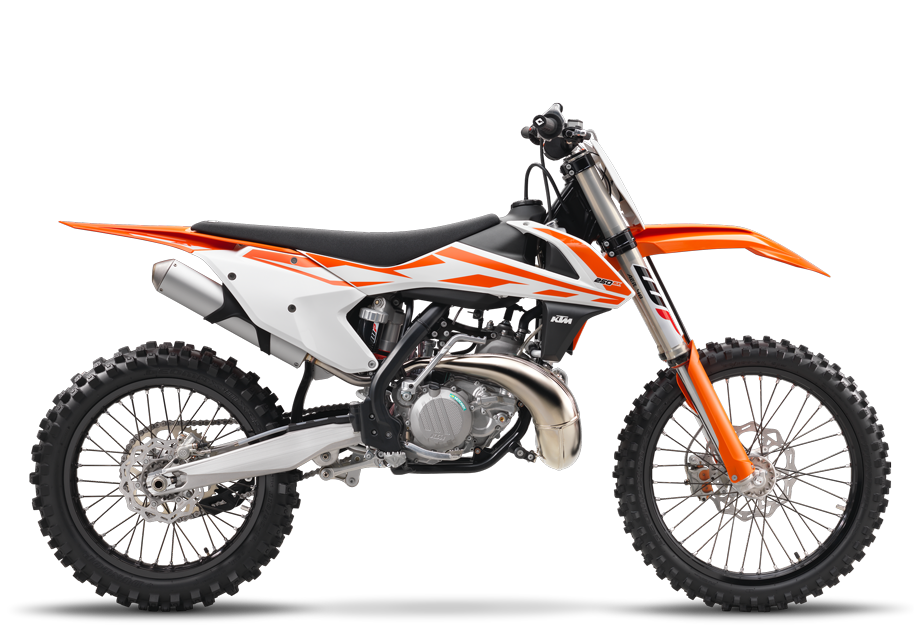 The new KTM 250 SX with its all-new engine has one of the best power-to-weight ratios in the world of dirt, forming the ultimate fist against more complex 4-stroke rivals. With the grunt to devour all sorts of tracks and terrains, and a lightweight chassis keen to skim the surface, this lovechild of KTM's R&D and Motorsport departments is born to lead the next pack of winners into a hazy blue future.
ENGINE
The engine of the 250 SX has been known and respected for being the most powerful 2-stroke engine in its class. But we thought the segment could use an extra push and a solid statement: 2-strokes have a future at KTM. Their outstanding power-to-weight ratio, low cost and simplicity see to that. Putting our money where our mouth is, we gave the 250 SX engine an all new architecture with a new shaft arrangement for better mass centralization, a new cylinder with twin-valve controlled power valve, a new counter balance shaft for less engine vibrations, a 5-speed transmission and a hydraulically operated DDS clutch. This compact firecracker truly outshines the competition with its ripping performance and is the right choice for lovers of low purchasing and maintenance costs. Oh, and of course don't forget that belly tingling 2-stroke symphony when you're on the pipe.

TRANSMISSION
This reworked 5-speed gearbox has the same gear ratios as its predecessor, but our engineers took a close look at the mechanism in order to provide you with more precise and easier shifting. Keeping safety in mind, an advanced ´No Dirt´gear lever design prevents muck from blocking the joint. Because even dirt lovers hate mud when it's in the wrong places.

CLUTCH
The 250 SX employs the KTM-developed DDS clutch (damped diaphragm steel) with a wear-free steel basket and extremely heat resistant clutch plates. This clever design employs a diaphragm spring instead of the usual coil springs, which makes for a considerably easier clutch action. A diaphragm spring also leaves sufficient space for a damping system to be integrated into the clutch hub. The goal was traction, yes, but durability as well. On top of that, it is fitted with a lighter basket, a reworked inner hub and a pressure plate providing better oil supply and unsurpassed cooling. Of course, light operation and telepathic amounts of control are what make this particular clutch, a hydraulic Brembo clutch.

EXHAUST
The engineers meticulously tuned the expansion chamber for maximum power. An advanced 3-D production process now guarantees higher precision manufacturing, so this little screamer is as tough as it is strong.

CARBURETOR
As of model year 2017, all KTM 2-stroke models are fitted with new MIKUNI TMX carburetors, replacing the Keihin products. This 38mm flat slide carb lives to provide smooth and controllable power all the way up to the limiter. And it's less sensitive to different altitudes and temperatures, so you can pin it wherever, whenever.

FRAME
The high-tech, lightweight chrome-moly steel frame has a knack for easy handling, outlandish rideability, precise cornering and excellent stability. You can also count on high torsional rigidity and low longitudinal stiffness. This results in better absorption of the energy created from the front and rear suspension, sucking up jumps and bumps. In short: more comfort and less rider fatigue. Laterally attached, lightweight engine head stays (the connection between cylinder head and frame) contribute to precise cornering and a reduced vibration level. The engineers were able to pull off all that, while making their frame a big fat kilogram lighter than that of the lightest competitor on the market. In addition, it is easier to maintain, easier to work on and supplies more space for the tank and other components. The bike also features an extra-light subframe made of stable aluminum profiles, which tiptoes the scales at less than 900g.

SWINGARM
The cast aluminum design offers low weight and a perfect flex behavior. The single-component casting process eliminates any inconsistencies and inherent weak points created by welding. It's better looking too.

COOLING SYSTEM
KTM's proven cooling system routes the coolant from the cylinder head through the frame triangle, directly to aluminum radiators made by WP. Due to flow optimized internal circulation and CFD-calculated air ventilation, the system is superbly efficient. In addition, well thought-out radiator guards integrated in the front part of the spoilers provide protection in case of crashes. Which is also pretty cool.

WHEELS
Featuring lightweight, CNC machined hubs and high-end Excel rims, they guarantee maximum stability and minimal unsprung weight. The wheels are shod with the latest Dunlop Geomax MX 3S tires.

MONOSHOCK
The WP monoshock has been developed with the entire frame and swingarm architecture in mind, including the linkage system and the WP AER 48 front forks. It features machined and black anodized components and is a valuable, high-end product compared to roughcast reservoirs. A new setting and a softer spring perfectly match the reworked front-end set-up and its sparkling WP color scheme lets everyone know you have excellent taste in suspension.

FORKS
The lightweight WP AER 48 front fork, a 48mm USD air-sprung fork developed by WP in close collaboration with KTM, is a split fork with separate functions for each leg. That means damping functions are on the right side, whereas the air spring is in the left. This left leg features a two-chamber system with a capsuled air cartridge to prevent loss of air pressure. Should the outer seal start to leak, the internal cartridge pressure will keep the bike in position. The air spring is easy to adjust to any rider weight via a single air valve. No special tools are required; the air pump supplied with the bike will do just fine. The right fork leg integrates a damping cartridge that tailors to all your damping needs. It can be adjusted to the track conditions and the rider's preferences with a twist of a dial (compression from the top, rebound from the bottom, 30 clicks each). For MY2017, the AER 48 also features redesigned outer tubes with better bending characteristics, smoother operation and less friction. Plus: they've lost some weight (265g). Right off the dealer floor, these forks are more comfortable and more sensitive than ever. But you can still hammer the hell out of them.

TRIPLE CLAMP
Top quality, CNC machined triple clamps have been something of a KTM trademark for years. Ensuring a precise handling, they perceptibly support the flex characteristics, and with it the action of the forks. For MY2017, the upper triple clamp specifically features a redesign in conjunction with the new fork tubes. The rubber damped handlebar fixation has also been reworked and the lower handlebar clamps are now separated, while on the upper side a new bridge-type clamp guarantees more torsional stiffness and can easily be replaced in case it gets twisted due to a crash. In addition, an hour meter is fitted at the upper triple clamp in order to let the rider know it's time for a service. Or a cold drink.

BRAKES
You couldn't brake any harder, better, faster or stronger. These high-tech Brembo babies are combined with lightweight wave discs made by Galfer. For MY2017, the rear brake features a 10mm longer brake pedal and you get new, less aggressive brake pads all round.